Pool Safety Tips for Pets - April 28, 2014


Spring has arrived and summer is on it's way! Warmer weather means more people and pets will be adventuring out into the water. Here are some basic rules to keep your beloved pets safe around the family pool!

Every family pet should be taught where the steps are located in your pool. Heaven forbid, if they fall into the swimming pool, they will know how to get out safely.

A fence around the swimming pool should be installed. In many areas this is required by law.

If your animals routinely use your swimming pool, be sure to install an easy-exit pet safe ladder.

Your pets are just as precious as children are and should be supervised around the pool at all times.

Pool covers can be dangerous for pets. Most pool covers float on top of the water and are not secure to anything and are solid color which may be deceptive to pets. The cover looks like a hard surface but are not always as secure as they appear.

Familiarize your pet with water at a young age and every summer season after. Don't assume that they know how to swim.

The pool industry offers a variety of pool alarm systems. One of hte most popular ones floats on the surface of the water and will be triggered when there is a disturbance in the water.

If an animal experiences a near drowning or water injury, it's best to take your pet to the veterinarian office immediately.

For more safety tips, helpful tips and handouts please visit our How-To Worksheets page.
---
New Recipe! - April 25, 2014


Today it may not be 70 but after this weekend, it looks like the Spokane and Coeur d'Alene area will start to shine with warmer temperatures and bluer skies!

With warmer weather and the days lasting longer you will start to notice that your neighbors are enjoying their backyards, maybe doing some lawn work and even barbecuing! Bring on the warmer weather!

Here is one of our favorite new Weber Recipes!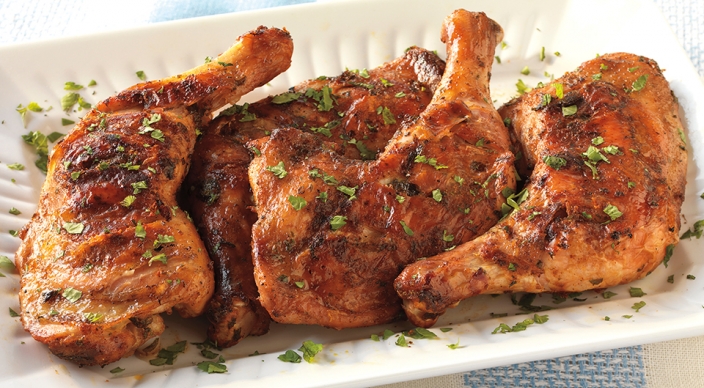 Moroccan-Spiced Chicken Legs Under Bricks

Marinade

1/2 cup packed roughly chopped fresh cilantro leaves

1/3 cup packed roughly chopped fresh mint leaves

1/4 cup extra-virgin olive oil

2 teaspoons finely grated lemon zest

2 tablespoons fresh lemon juice

2 teaspoons kosher salt

2 teaspoons ground cumin

2 teaspoons paprika

3 garlic cloves, minced

1 teaspoon freshly ground black pepper

4 whole chicken legs, each 10 to 12 ounces, trimmed of excess fat and skin

1 tablespoon roughly chopped fresh cilantro leaves

1 tablespoon roughly chopped mint leaves

In a small bowl combine the marinade ingredients.

Cut a few deep slashes in the meaty part of each chicken leg. Place the chicken in a large resealable plastic bag and pour in the marinade. Press the air out of the bag and seal tightly. Turn the bag to distribute the marinade, place in a bowl, and refrigerate for 4 to 6 hours, turning the bag occasionally.

Prepare the grill for direct and indirect cooking over medium-high heat (400 to 500 degrees F).

Remove the chicken from the bag and discard the marinade. Place the chicken skin side down, over indirect medium-high heat. Place a sheet pan on the top of the chicken and weight it down with two foil wrapped bricks. Close the lid and cook until golden around the edges, about 20 to 25 minutes. Remove the bricks and sheet pan and using a large spatula, carefully turn the chicken legs over, being careful not to tear the skin. Replace the weight, close the lid and cook until the juices run clear and the meat is no longer pink at the bone. This should be 20 minutes more. If desired, to crisp the skin, remove the weight, turn the chicken skin side down, and grill over direct medium-high heat for 5 minutes. Remove from the grill, garnish with cilantro and mint, serve warm.
This recipe is perfect for Spring and Summer! For more recipes, please visit our Recipe of the Week!
---
Team & Club Rewards to St. Mary of the Rosary - April 24, 2014


We want to give a HUGE THANKS to our customer Mike C. for donating their Team & Club Rewards to the St. Mary of the Rosary! Thank you for supporting Pool World and supporting your favorite organization!!

Mike was able to donate a Team & Club Rewards through the purchase of his new Free Flow Azure hot tub. The Azure has been designed to fit 4 adults comfortably with 18 jets in 270 warm, pulsating gallons of water. There is a spot for everyone to relax in, including a lounger and featuring a relaxing waterfall. The Free Flow Azure is a perfect plug and play hot tub!

If you are interested in seeing more information on other donations please visit our Team and Club Rewards page!